The leaves are changing, the days are getting shorter, nights cooler, and every brand is trying to jam pumpkin spice down our throats. It's fall in New England. Personally I enjoy the change of every season. It's one of the reasons I think I will always stay in a place with four seasons. The inevitable tiredness one gets from the current season and the excitement of the next.
As for the fall our area of New England and especially Boston is loaded with places to go and things to do with a fall theme. I enjoy the standard issue activity the fall brings. Seeing the leaves, picking apples, going to spooky places. What I don't enjoy is having to drive for hours, fight traffic, find and pay for parking. So I made a list of the best fall places you visit this fall that you can access by the MBTA Commuter Rail. The Commuter Rail recently made their $10 Weekend Pass permanent. Meaning you can ride any line as many times as you please. From the first train on Saturday all the way until the last train on Sunday.
Here we composed a list of our favorite fall destinations. Mostly some hidden gems mixed with a few you are sure to have heard of. Also included is a mini guide on the area and some details about the specific train stations connecting you to them. At the end there are few bonus honorable mentions. So spare yourself the three to five our drive up to Vermont or New Hampshire and have fun exploring right here by rail!
Boston, MA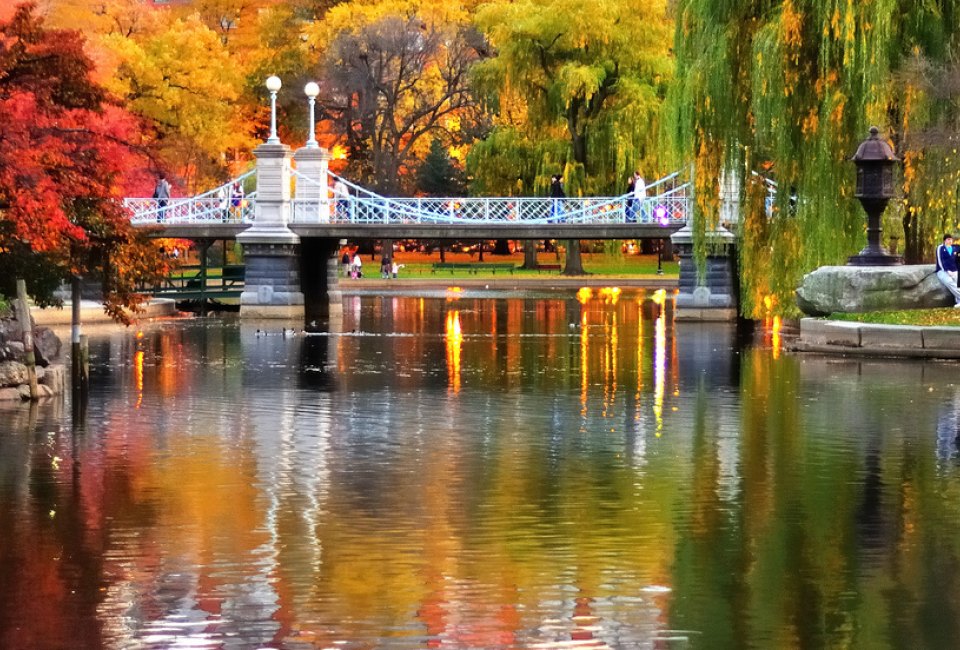 Boston is home to some of the best fall activities. We are one of the densest American cities making it a car free treasure. With green spaces ready to burst into fall colors, activities for every age, fall flavors and food options Boston is a great space to visit in the fall. Boston has two major commuter rail hubs connecting to almost all surrounding suburbs. There is a subway and bus system that runs 7 days a week and keeps everything within the city connected. A bike share network that serves up to 10,000 rides a day. Make Boston your playground this fall.
How to get here: If north of the city take any commuter rail line into North Station. From there you have access to the subway, bus network, bike share, and are already in a walkable location.
If living south of the city or Worcestor take the commuter rail to South Station or Back Bay. From there you have the same accessibility as North Station.
What to do: For walking and leaf peeping one of the best spots is Forest Hills Cemetery. That's right. Beautiful foliage and as a bonus with Halloween just around the corner there is certainly a spooky feel to this place. Visit the graves of poets E.E. Cummings and Anne Sexton. Take the Subway's Orange line to Forest Hills stop and you are a few steps away from a spooky classic cemetery set in a picturesque nature setting.
What to eat: Want that pumpkin flavor? Fresh apples? Head right over to the Boston Public Market. The market is indoors and has options ranging from farm fresh produce to homemade pasta. There are beer and wine vendors, a noodle place, and even a true farmers market outside the doors on Friday and Saturday called Haymarket.
The BPM is right at the Haymarket T stop and is walkable to the TD Garden commuter rail and subway train station.
Salem, MA
Salem is the quintessential New England Halloween town. Well known for its Witchy Past, rich history, and beautiful streets made from cobbles and lined with trees. It is also a bit touristy. But that being said, most would agree the worst part is the inbound/outbound traffic and parking. All of which us train riders will not have to worry about.
What to do: There is a lot here. A day will fly by. My advice is to pick one or two 'attractions' and leave the rest of the time to just walk, people watch, and surprise yourself. The Salem Witch Museum provides an opportunity to learn the history behind the Salem Witch Trials with a presentation designed using actual trial documents. This stuff actually happened it's wild.
How to get there: From Boston take the Newbury/Rockport Commuter Rail line right out of North Station to Salem Station. It is a beautiful station.
Providence, R.I.
Providence is my hidden gem for a day or night getaway from Boston so don't tell too many people! PVD is incredibly accessible via train and bus with minimal crowds to manage. There is history and beautiful spaces everywhere you look. The fall is a great time to visit as an incredibly small and thus walkable city. The cooler temperatures will make getting around by foot very pleasant.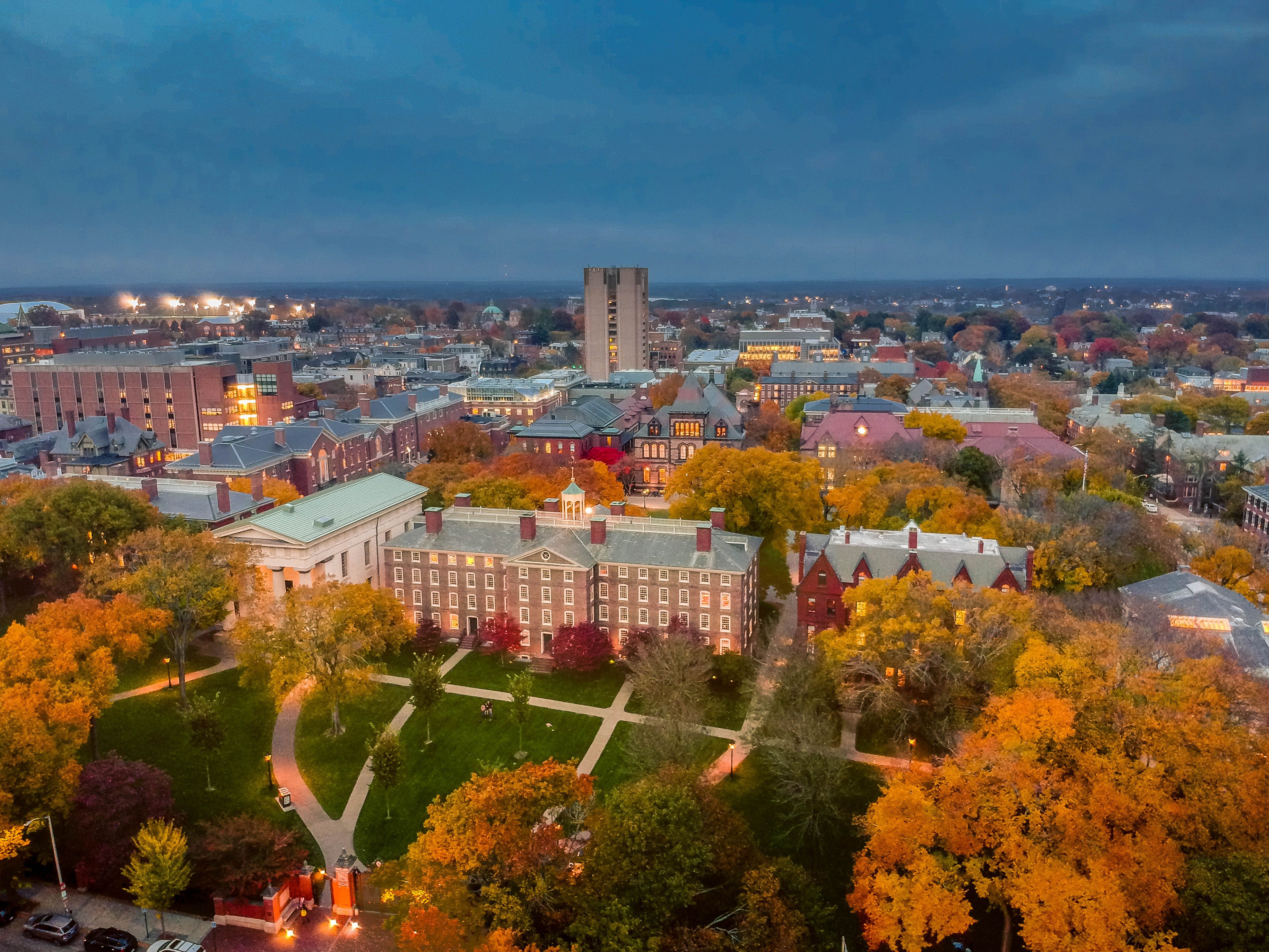 What to do: Take a walk thru Browns Campus and the east side. It is a picturesque campus and the foliage only adds to it. Pop over to Thayer St. nearby for dining, and shopping. Head back over the river and hit up Downtown. Hidden gems like The Dorrance and The Eddy give you a throwback timeless feel if in the mood for a nice cocktail. To hit the true fall theme check out the Jack-O-Lantern Spectacular at Roger Williams Park Zoo for some Halloween fun for all ages. You will be really glad you do not have a car when you see the line to park at this.
Also to hit a true Providence event there are two 'full lighting' WaterFire events left in the season. Here the city lights up the river downtown with over eighty sparkling bonfires. To quote waterfire.org directly "The fragrant scent of aromatic wood smoke, the flickering firelight on the arched bridges, the silhouettes of the fire tenders passing by the flames, the torch-lit vessels traveling down the river, and the enchanting music from around the world engage all the senses and emotions of those who stroll the paths of Waterplace Park."
How to get there: Take the Providence/Stoughton Line from South Station in Boston to Providence Station. From there you are walkable to everything the city has to offer. If you need to get off your feet check out they bus network RIPTA which can take you just about anywhere in the state of Rhode Island from Providence and back.
Runners up:
Foxboro, MA
How could one make a list about the fall in New England and not include the hometown of the beloved New England Patriots? Patriots and Revolution games are obviously a draw as well as major concerts. Patriots Place is also home to dozens of restaurants, shopping, and hotel options. One can easily lose a day at Patriots place with options and fun for all ages.
Outside the stadium Foxboro has a small town feel. Check out a trail network surrounded by foliage of F. Gilbert Hills State Forest. It will rival in town up North.
Get there via the Commuter Rail. Runs every Patriots game, some Revolution games, some big concerts. Also starting 10/21 the CR will run to Foxboro during the week as part of the Fairmount Line and Franklin Line. Nearby stations Mansfield and Walpole can get one closer as well.
Wachusett, MA
People often forget we have a ski resort right here in Massachusetts and its accessible via the Commuter Rail! The fall is a great time to explore Wachusett without snow and ski lines! The hiking and leaf peeping are top notch and there is also plenty of planned events as well. This fall they have events ranging from an OktoberFest, a Fall Food Truck Fest, and an AppleFest. Holy Fest!
Take the Fitchburg CR line to Wachusett Station and enjoy a free shuttle from there to the mountain!
Quick bonus round: Ipswich, MA. Newburyport, MA.
Have fun exploring these amazing New England places by train. Remember to get your Commuter Rail $10 Weekend Pass if traveling on the weekend! Have fun and shoot me a note if you had fun at these places or think there are other train and fall friendly stops we should add!